Friday, January 27th, 2012
A recent post on PR Daily brought new attention to the differences between the way PR pros and marketing pros write. This triggered a string of thoughts leading to a new question: "Why can't marketers just replace PR pros when it comes to social media?"  Some can, don't get us wrong. But in general, social media is a place where a community manager, or a public relations professional [generally – again we are sure there are exceptions] thrive and a traditional marketing mind sometimes flounders. So logout your sales and marketing pros from your social media accounts and let the communications pros take the keyboard.  You don't hire an interior decorator as your IT specialist, so hire the right professional for your social media efforts.  Here are a few reasons why PR pros dominate the social media field.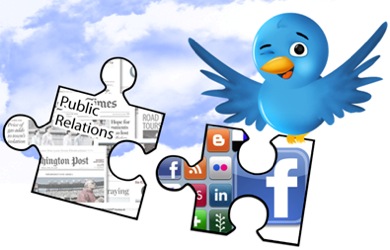 PR pros are trained to communicate to multiple audiences.
As if this isn't enough, PR pros are trained in the skilled art of writing for different audiences. The intricacies of targeted communications is something that PR pros learn about through formal training and practice in their everyday lives.
Not every post will be marketing your brand.
This is a personal pet peeve of ours. Only talking about your brand and how great it is all the time!!! Is just so great for everyone to read!! You get the idea; need I go on? This is not the kind of communication people want to interact with. Social media is built for two way communication, so don't just push, pull.
Negative feedback comes with the territory.
PR pros have been trained in crisis communications and have a plan in place for negative comments. A PR pro has worked closely with various members of the team to develop company value-oriented messages to address whatever negative sentiment comes up. These underlying messages will be conveyed consistently in all company communications, including complicated and less-complicated situations.
You shouldn't delete bad comments.
Pet peeve number two. This is a mistake that comes with the territory. If a conversation isn't taking the direction you are gently guiding it (if you aren't guiding it, you should be) take it offline. Don't just start to ignore the user. Knowing when to take the conversation offline is a decision that must be made quickly and decisively.
Social media doesn't sleep.
This may mean that you are not just looking for a communication guru. Depending on the demand, you might need to see a specialist. If your social media accounts are going to be highly active, especially on a global, cross-time zone scale, you will need a person that you can dedicate solely to that job – because it will be a fulltime job. No one likes to be spread too thin, like too little butter over too much bread.
PR and marketing aren't worlds apart; at the end of the day both positions want brand recognition that will result in positive revenue for a company. Both positions require creativity, specific knowledge and unique skill sets. Marking pros tend to use punchier, flashy language and the strategy driving the communication tends to be sales driven. PR pros are striving to paint an image of a company by using strategic language and tactics to influence how a company is perceived. While both professions share similar end goals, the means of getting there is not the same. Public relations and marketing are just not the same job and the professionals in the industries are not meant to be interchangeable.